I have been adding a few things to my truck and decided to start a build thread to document the progress. This community has provided a lot of valuable info on the F150 Raptor and perhaps, this build thread will provide some "giving back" to the community by helping fellow raptor owners decide if some of these mods are for them – or not. In the process, I will attempt to provide some feedback on the performance of the mods and the vendors that provided the equipment.
First a coule of pics to show how the truck looks today (after the mods). After the pics is the Table of Contents, that will help you find a topic that may interest you more quickly.
Pic 1: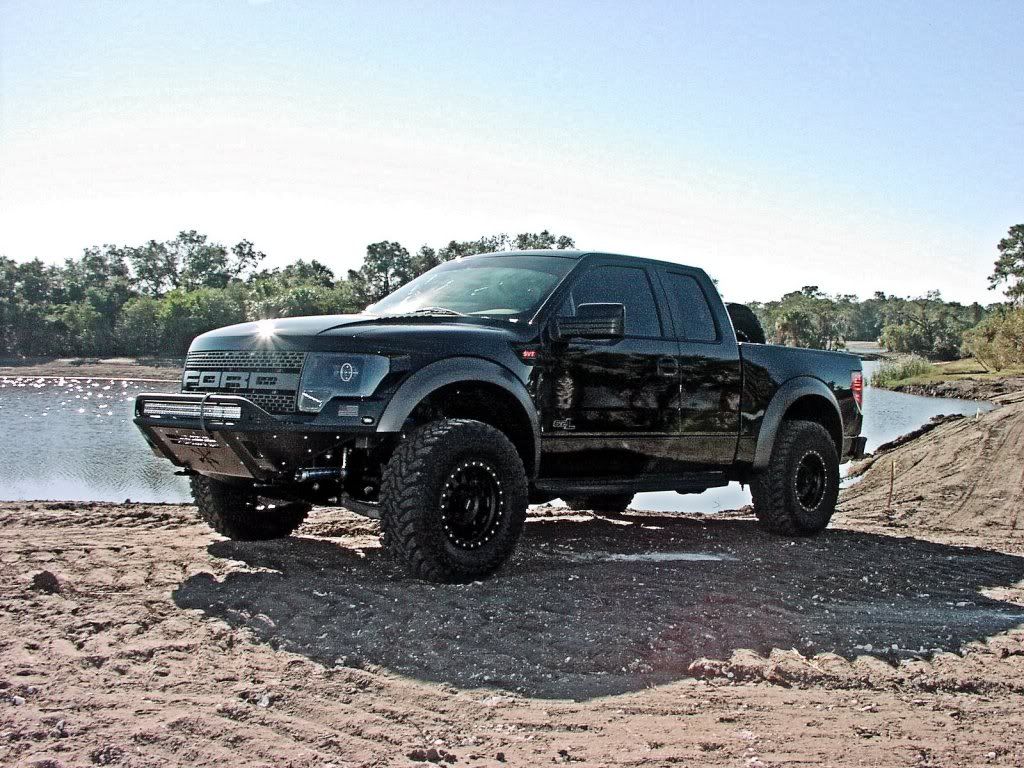 Pic 2: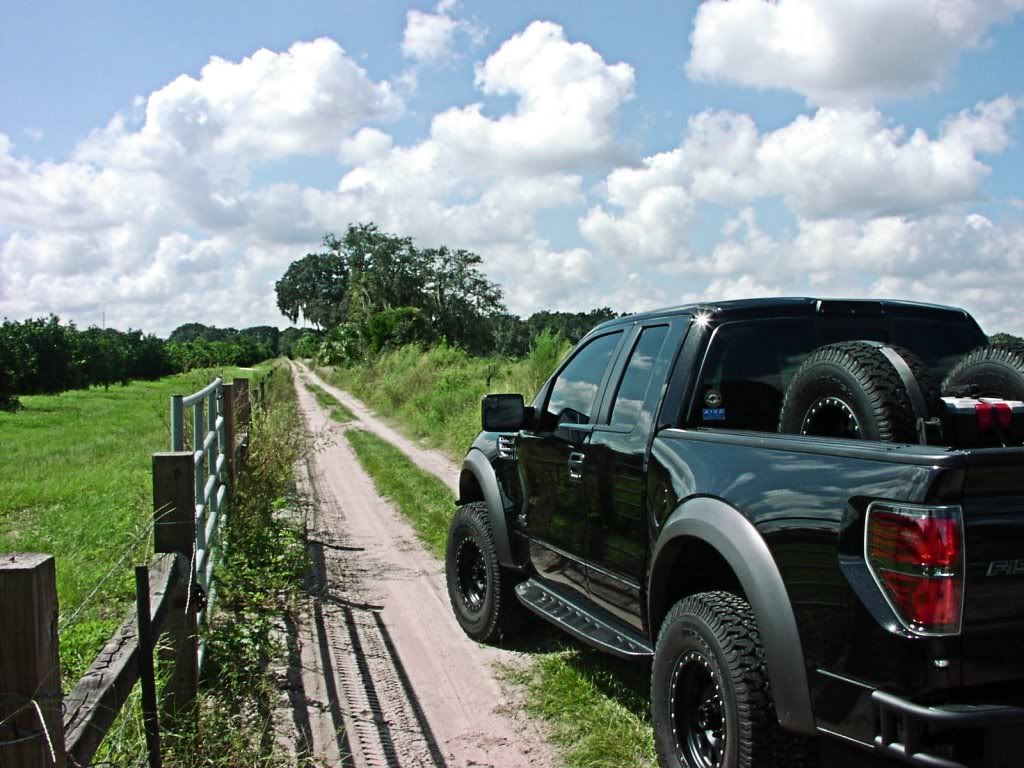 Pic 3: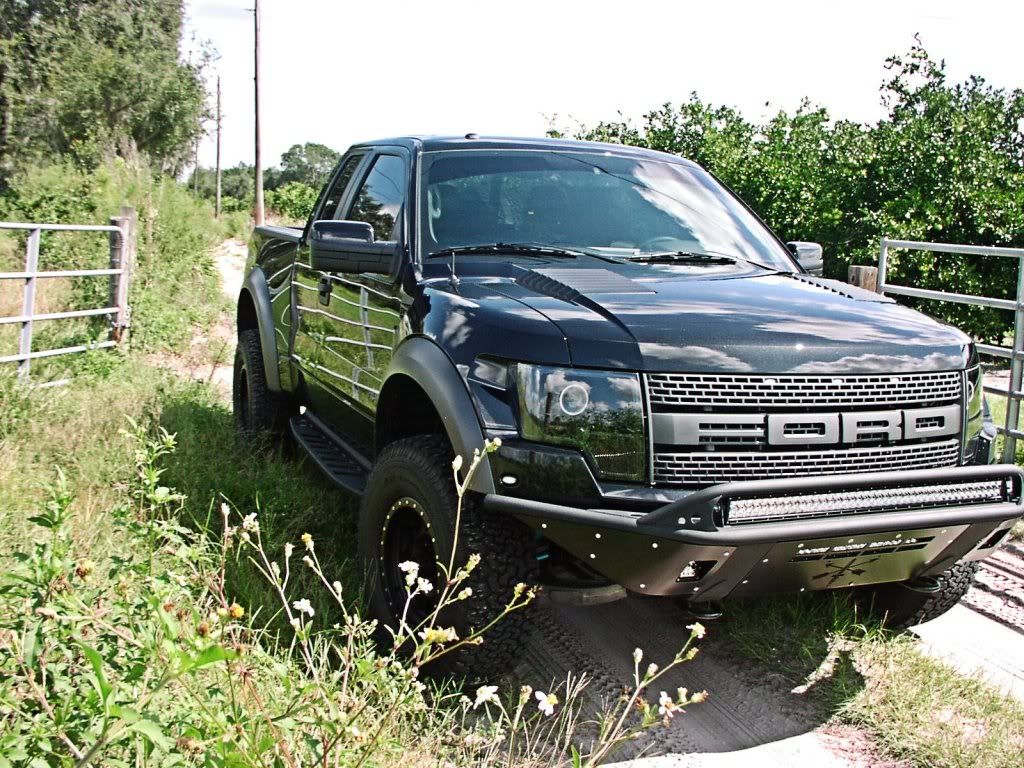 Pic 4: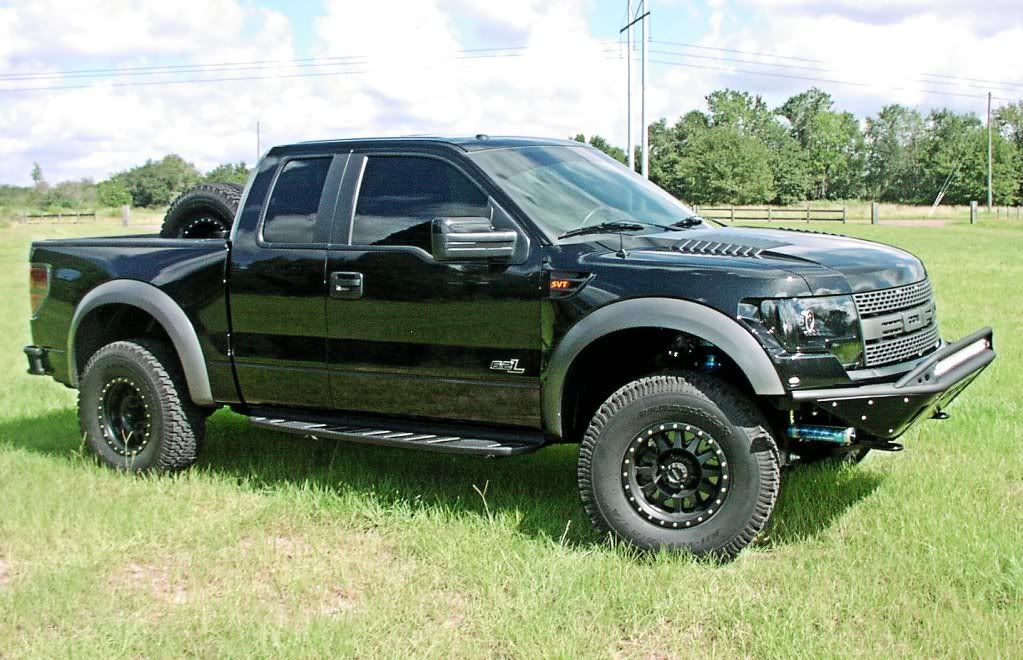 Pic 5: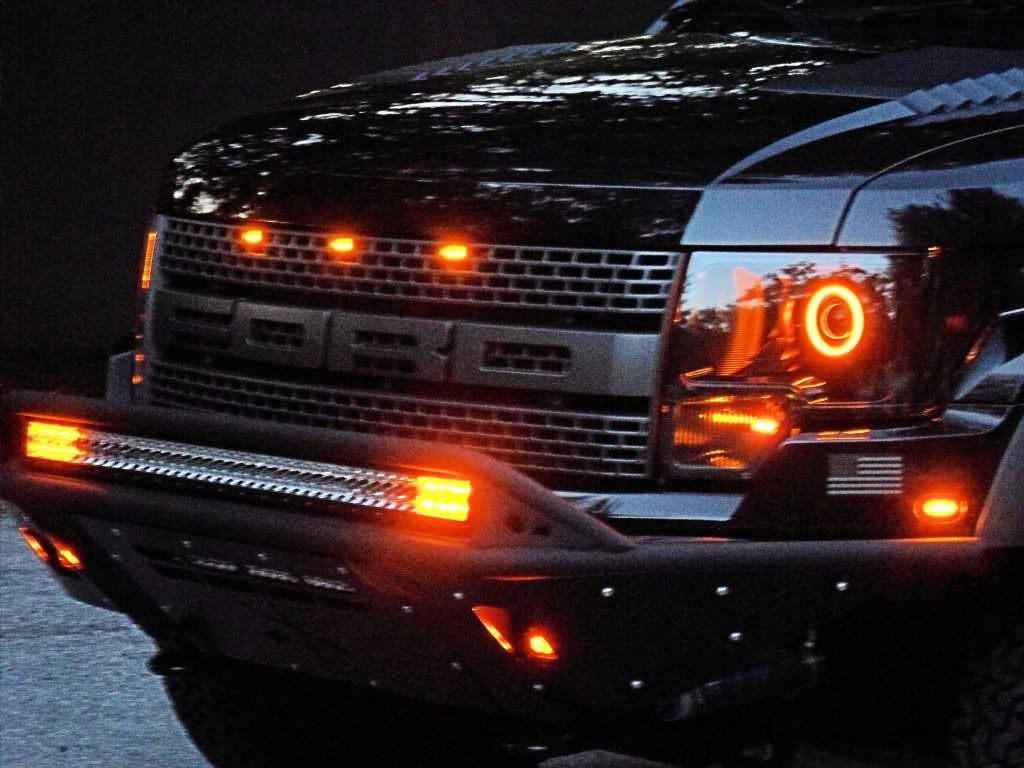 TABLE of CONTENTS:
Page 1:
Post 1: Stainless Works long tube headers and true dual exhaust (high flow cats/ x pipe).
Post 2: Cold Air Intake (AFE)
Post 3: Rigid D2s and Light bars
Post 4: Console Vault
Post 5: Line X Bed and Wheel Wells
Post 6: Wicked Performance Front and Rear Bumpers
Post 7: CO2 System
Post 8: BAK FLIP F1 (Bed Cover)
Post 9: Tuffy Lock Box
Page 2:
Post 11: Pros/Cons of CO2 vs on-board compressor
Post 15: SVT Certificate
Post 17: RPG Tie Rods
Post 18: King 3.0 Coilovers
Page 3:
Post 22: King 3.0 Rear Bypasses
Post 23: Photos of Cleaned up Raptor w/ Kings
Post 25: Adjusting the King 3.0s
Post 26: RPG Upper Control Arms (UCAs)
Post 28: Travel Distance with Kings/UCAs, etc.
Page 4:
Post 31: Subdued American Flag
Post 32: Mag-Hytec Rear Differential Cover
Post 34: Method Double Standard Wheels
Post 36: RPG Stage 3 (Bump stops, Frame Wraps, National Springs)
Post 37: King 3.0 Setup; Pros/Cons Discussion
Page 5:
Post 44: RPG Stage 3 Install
Post 48: National Springs
Page 6:
Post 55: Bump Stop Comparisons
Post 60: Removing rust from underneath Truck/ Repainting
Page 7:
Post 61: CO2/N2 discussion
Post 70: Replacing OE Battery
Page 8:
Post 71: Off Topic: Ford Ranger Cylinder Head Gasket Repair
Post 72: SW "under the bumper" exhaust setup/
Blackening the tips
Post 80: Discussion on transmission temperature
Page 9:
Post 88: DC Power Engineering 270 amp alternator
Post 89: Power Management Setup for Dual (Aux) Battery
Page 10:
Post 92: AFE hose clamps
Post 93: Rear Brake Rotors and Pads Upgrade
Page 11:
Post 108: Front Brake Rotors and Pads Upgrade
Post 109: New Brake Bed-in Procedures
Page 12:
Post 113: Bleeding the Brakes and Brake Fluid Replacement
Post 114: Dual Battery Cabling and Connections
Post 119: Retrofit HIDs (Ducati Lights) w/ LED rings
Page 13:
Post 123: RPG Power Steering Reservoir
Post 130: Billet Ford Oval for Tailgate and Tinting 3rd Brake Light
Page 14:
Post 132: Test Fitting Aux Battery Box in Bed
Post 137: Installing CO2 tank on Tire Rack
Page 15:
Post 149: Evaluating options for additional rocker switches
Page 16:
Post 151, 160: 6 Rocker Switch Panel Installed, Rigid D2s on Bed Rack, N2 Cylinder on Bed Rack
More to follow as I continue to catalogue the build....
Not in any particular order with respect to what was done first or last, thought I will start off with the Stainless Works long tube headers and true dual exhaust (high flow cats/ x pipe). I opted for the chambered mufflers, not the S tube mufflers. In theory, by going with the chambered mufflers, one leaves a bit of HP on the table, but I was concerned with potential drone and overall loudness of the less restrictive S tubes. The chambered muffler is

mellow at idle and cruising speeds, but opens up pretty good when you accelerate.
Example of chambered muffler: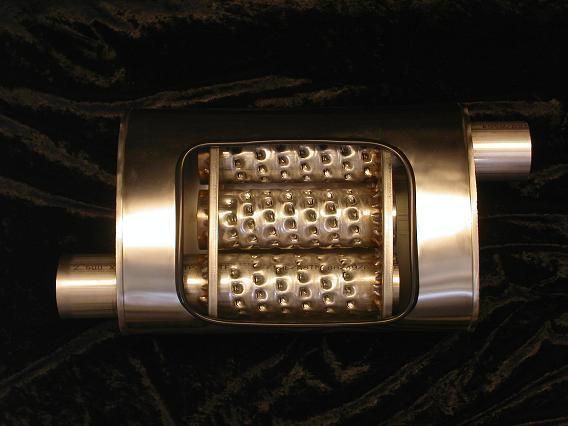 Example of S tube muffler: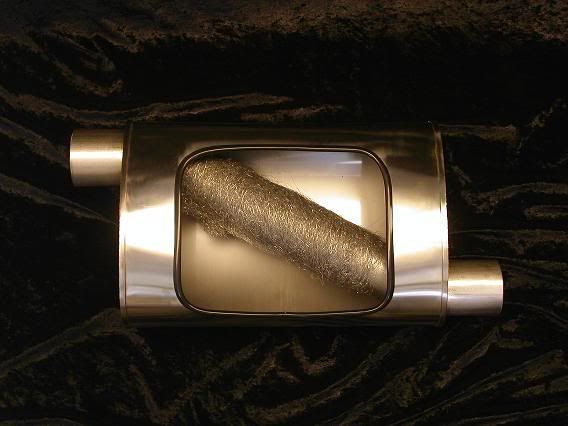 Why long tubes: At the low to mid end, the best way to maximize exhaust scavenging, thus helping to maximize the engine's

volumetric efficiency

is to move the exhaust out of the engine as fast as possible. Long tubes work best for this because the length allows an elongated path for the gas to flow, thus allowing the gas to leave the cylinder with more speed because the gas has more time to gain velocity before it hits the collector.
By now, it should not be a surprise to anyone that installing this setup on a Raptor is a royal PITA. It took about 2 days (22 hours) to install this setup on my truck. It did not help that I managed to bend the oil dipstick tube in the process and ended up having to order a new one. All in all, it is a not an easy install. For consideration, some things you must do to install the long tube headers: Remove the engine skid plates, skid plate on left side of transmission cross member, the transmission cross member, starter, move the steering shaft out of the way, remove nuts/bolts from right motor mount (you have to lift the motor), move oil dipstick tube/dipstick, etc., etc.
Pic of the headers, high flow cats, x-pipe: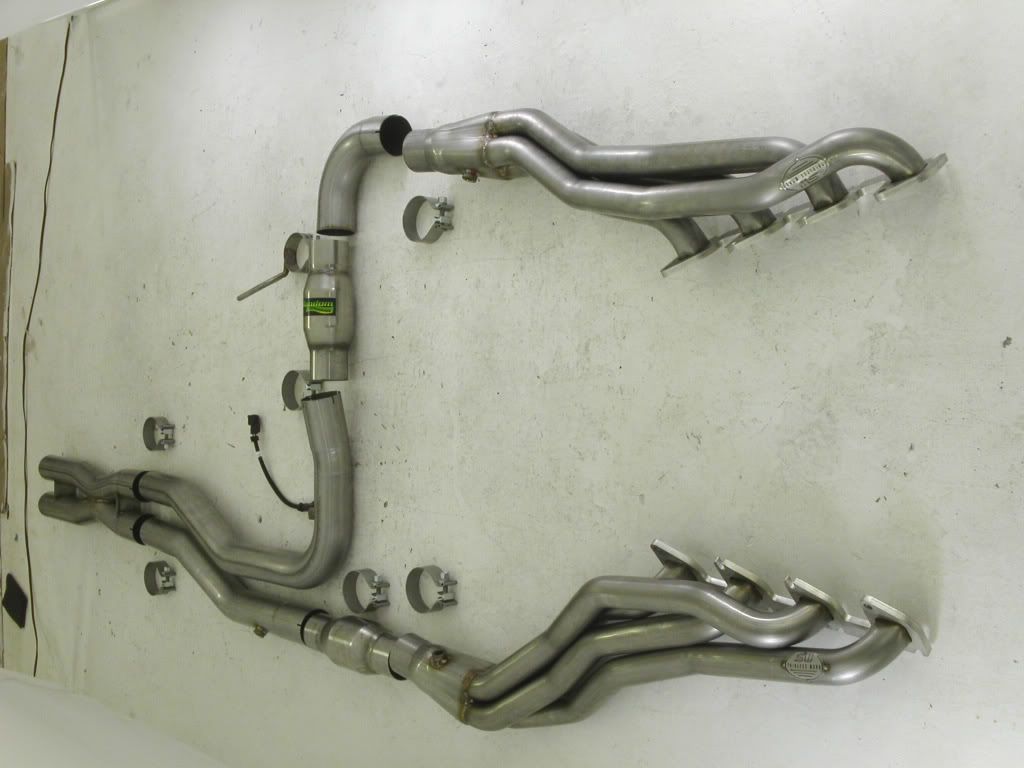 Pic of the chambered mufflers, pipes and tips:
I have read of issues with the header bolts that SW provides with the headers (wrong threads). I did not experience this. The bolts fit OK. In defense of SW with respect to level of install difficulty, IMO any long tube header, no matter the brand, will be difficult to install on this truck. Yet, the time and effort was worth it. The truck has increased performance (HP) and although I did not install headers/dual exhaust to increase mileage, I have noticed a slight (~ 2 MPG) increase (per onboard MPG tracker).
With the headers and high flow cats, I was expecting a CEL issue after the install. To my surprise, the truck has not even blinked with respect to CELs. Each truck is different, so in some cases, a CEL issue will develop after the install. If so, a tune is needed to eliminate the CEL. I suspect the tune cuts off the O2 sensors. I have driven the truck x100 miles since the install – no issues yet. The exhaust sounds great - brings the beast to life, but yet muzzles it just enough to keep it somewhat civilized in the burg. Some of the dyno graphs on the SW header /exhaust install indicates an ~ inc of 25 HP (bit conservative IMO).
I would have preferred black tips instead of the chrome, but SW does not offer that option. I am looking for some black tips to finish the exhaust (considering RBP). Another consideration I learned after the fact is that you can get the pipes ceramic coated at an additional cost.
Drone? Up front, I have not noticed a drone. It is noticeably louder in and out of the cabin, but I expected that. I like "hearing the engine" respond. If you like it dead quite in the cabin, this setup isn't for you. But, neither is it so loud that you cannot have a conversation or do what you would normally do with the radio/speaker system. FWIW, I have checked out a number of videos/sound clips of the SW system posted on the web. They help discern some differences between setups (chambered vs. stock, etc.), but none really do the sound quality/level justice. Most clips make the setup "sound louder" than it actually is.
It is difficult to get pics of the headers after they are installed (another indication of how deep they are buried in the engine compartment and inherent problems on installation). But, here are a few of the system:
Pic 1: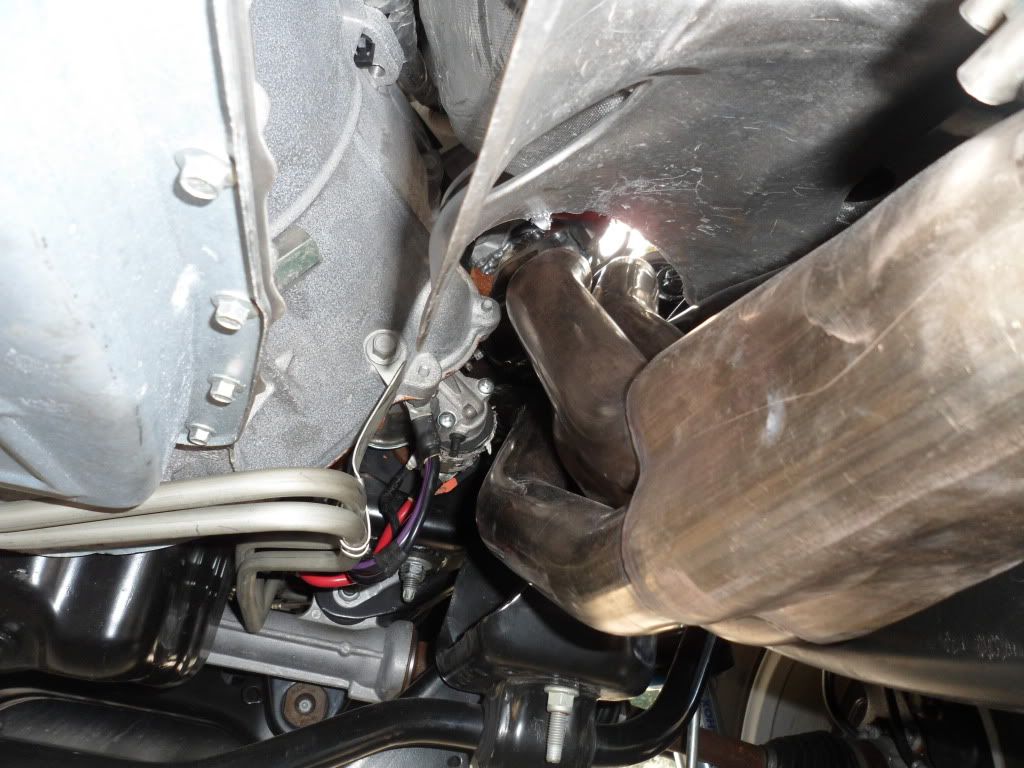 Pic 2: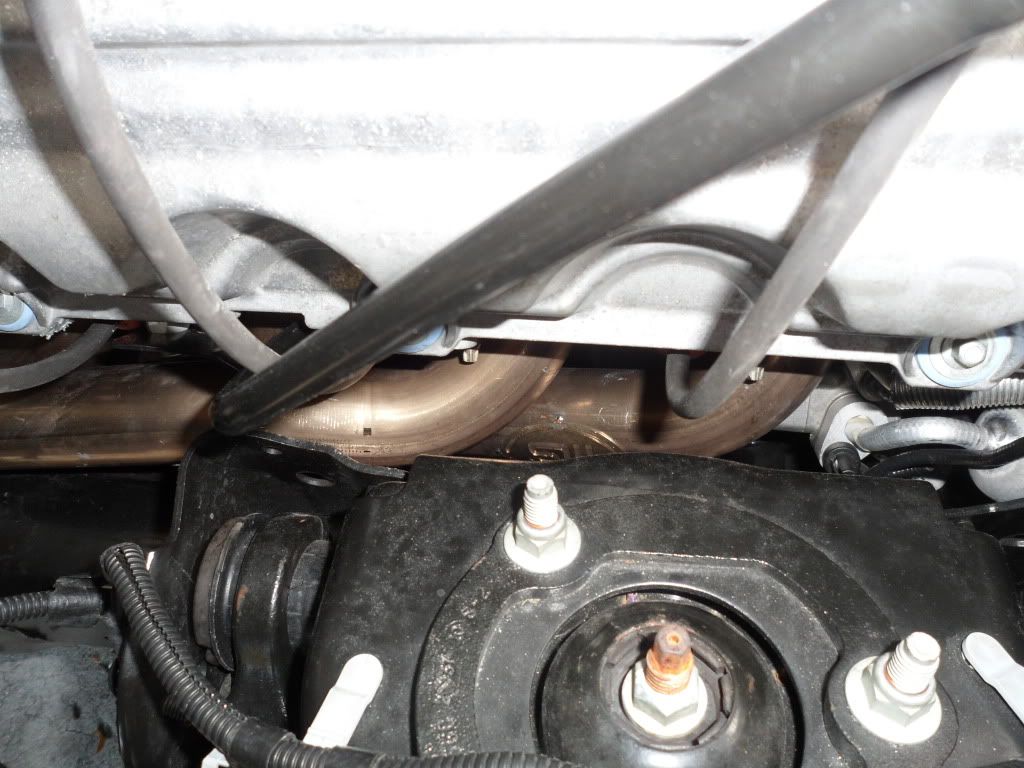 Pic 3:
Pic 4: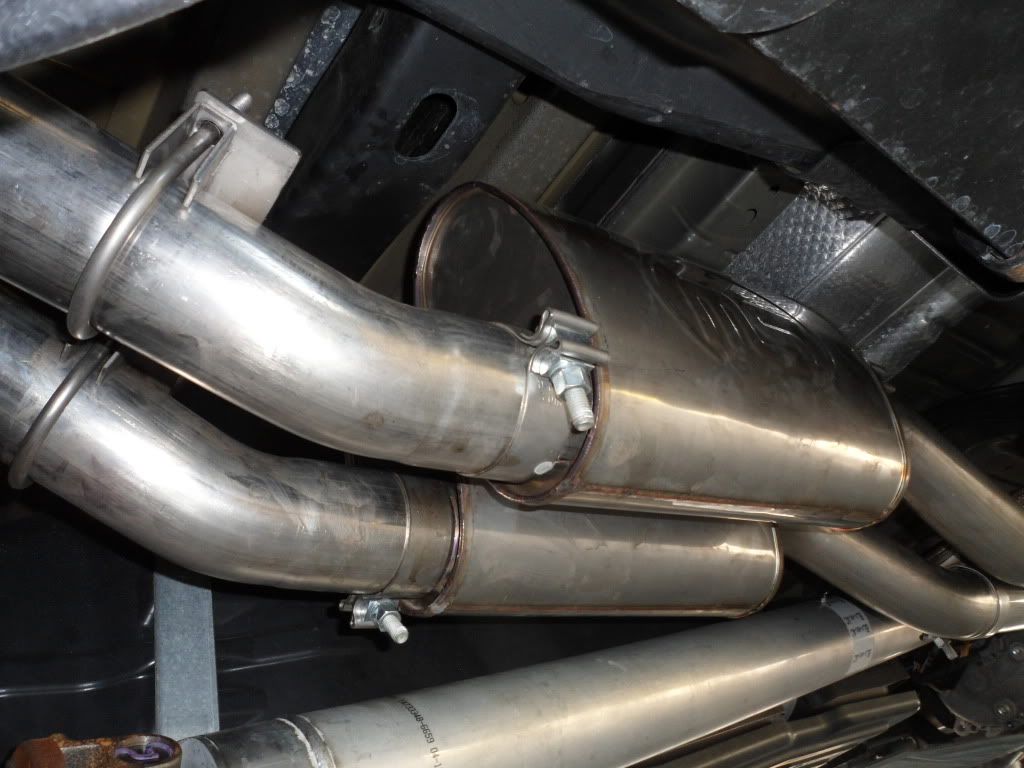 Pic 5:
Overall synopsis:
Headers/Exhaust:
Pros:
1 - Quality materials and construction
2 - Good design/fit to truck
3 - Performance increase
4 – Good balance between loudness and performance
5 – longer life span of exhaust set up.
Cons:
1 – PITA to install (probably common to all long tube headers). Get ready to invent a few new curse words.
2 – Cost; this is not a cheap mod, especially if you buy a programmer/tune and have to pay someone to do the install
3 – No option for black tips and only one exhaust routing option (where stock exhaust exits behind passenger side rear tire).
And, just in case you are interested in what the stock manifolds look like: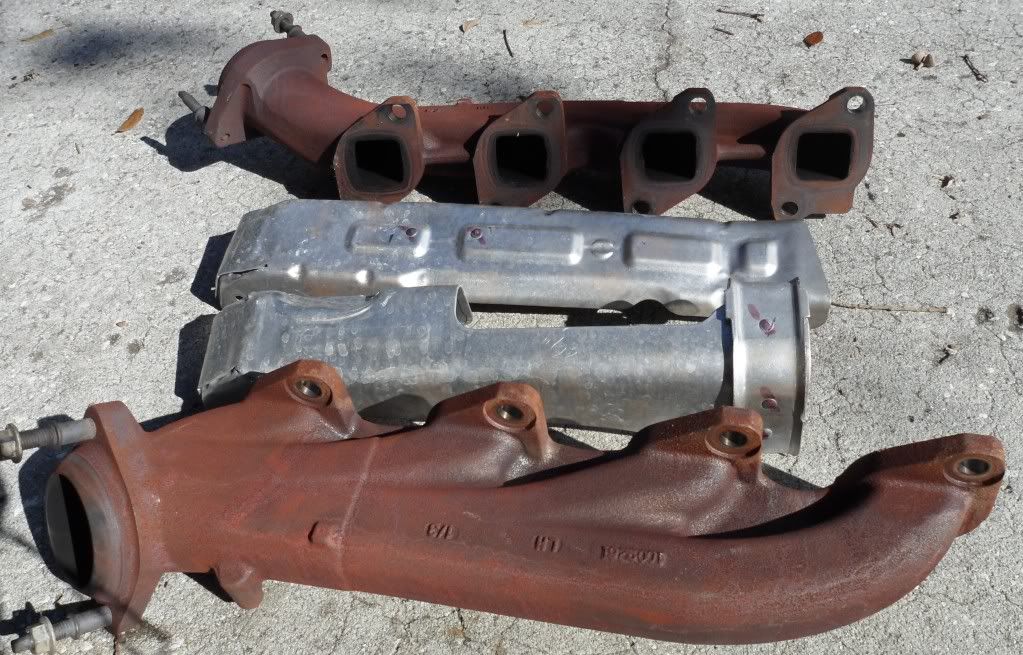 More to follow.......:smileup: